Crime Prevention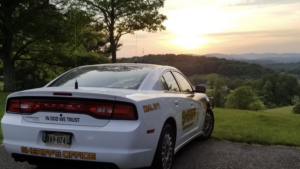 The Grayson County Sheriff's Office is proactive in it's crime prevention efforts and coordinates many community services and crime reduction education programs.
The Grayson County Sheriff's Office is also responsible for conducting home and business security surveys and being invovled in many community events.
We assist citizens in problem-solving projects relating to issues such as drug houses, youth gangs, vandalism and graffiti, and other county "hot spots."
SALT (Seniors and Law Enforcement Together) is TRIAD on the community level. In Grayson County, it is composed of elders, the Grayson County Sheriff's Office, the Commonwealth's Attorney's Office, and Grayson County Department of Social Services, and personnel of other community and civic groups. The local SALT Council determines the needs of the community's senior population as they relate to crime prevention and safety awareness, and coordinates activities to meet those needs. We endeavor to find ways to minimize the difficulties seniors face in a changing world. Working together, we try to find ways to provide information and self-defense strategies for Grayson County's aging population. To participate in any program, please contact Karen Smith, the Grayson County S.A.L.T. coordinator, at 276-773-3241, during the hours of 8:00 am – 4:00 pm, Monday through Friday.
Community Watch

Brush Creek Community Teams With Sheriff's Office to Fight Crime
Since the organization of the Brush Creek Community Watch Program in February, Brush Creek residents have worked in collaboration with the Grayson County Sheriff's Office, and the Carroll County Sheriff's Office to fight crime.
The group was first organized by Donna Taylor who identified several safety concerns in the Brush Creek community. Sheriff Vaughan said that the citizens are the eyes and ears of law enforcement and play a critical role in the criminal justice process. Vaughan was eager to team with a group so committed to taking a part in the safety of their neighborhood. The second meeting brought out approximately 40 supporters which is quite impressive for such a small community.
Just in the last few months, the Brush Creek Community Watch members identified an individual living in their community who was a fugitive from justice in another county. Their immediate reporting ensured the fugitive was brought to justice. The Community Watch group also gave information which led to the recovery of a stolen four wheeler by the Carroll County Sheriff's Office. They have even reported numerous cases of suspicious activity and have identified unlawful solicitors who were going door to door without the proper license.
Most recently, the group has been informed in areas of crime prevention, Operation ID, National Night Out, and victim assistance by Sergeant Doug Carner (retired) of the Grayson County Sheriff's Office. Conservation Police Officer Jason Harris with the Department of Game and Inland Fisheries presented information regarding game violations, and how to report these incidents. The group participated in a community cleanup, and posted community watch signs. Donna Taylor, Brush Creek Community Watch organizer, said that her community is alert, prepared, and ready to document suspicious activity and make a report to law enforcement.
The Grayson County Sheriff's Office is also teaming with the Carroll County Sheriff's Office to provide overlapping patrols in the Brush Creek Community. Sheriff Vaughan stated, "Since the Brush Creek Community is located in both Carroll and Grayson Counties, and we have a Mutual Aide Agreement in place, it makes perfect sense for us to overlap our patrols in remote areas such as Brush Creek." Grayson Deputies will patrol through the Scratch Gravel Road area, and Carroll will patrol Brush Creek Road to the Wythe County line.
All citizens are encouraged to report unusual or suspicious activity to the local authorities, including;
Someone looking into cars or homes
A stranger removing items from unoccupied homes or closed businesses
Vehicles cruising slowly or without lights
A stranger stopping to talk to a child
Call 911 and:
Quickly explain what happened
Give your name and address
Describe the suspect's gender and race, age, height, weight, hair color, clothes, and distinguishing features like facial hair, scars, accent
If a vehicle is involved, report the color, make, model, year, license plate and distinguishing features, like bumper stickers or dents